Rebecca to speak at the 2016 Global Women's Leadership Summit on Integrated Leadership – The Key to Inclusive and High Performance Organizations
---
Join Rebecca's live webinar on
October 27th at 4:00PM EST by registering here
---
Corporate boardrooms and leadership teams still don't mirror our workplaces and customers. However, women are finally breaking through the glass ceiling, and strategic organizations are embracing a new leadership model for the 21st Century called Integrated Leadership. It is built on the foundation of gender-balanced teams and leverages the unique strengths of both men and women.
In this timely and thought provoking session, Rebecca Shambaugh will share her company's research, best practices, and compelling business case for Integrated Leadership. Rebecca will provide a roadmap based on her work with F 500 global companies, leaders, and their teams on how to build a winning strategy that drives greater levels of engagement, growth, and profitability while creating the most powerful competitive advantage on the innovation front.
Key Takeaways:
Will Your Organization Survive or Thrive in Today's Complex Business Environment? The Business Case for Integrated Leadership for 21st Century
A Client Case Study: The Biggest Obstacle for Driving Innovation and Inclusive Leadership and What to Do About It
It's Not a Glass Ceiling, It's a Sticky Floor: Top Three Strategies for Women to Take Their Leadership to the Next Level
Engaging Men as Part of the Equation for Advancing Women – Achieving Gender Balanced Leadership
What Organizations Can Do to Create an Inclusive Work Place and Move the Needle for Women NOW!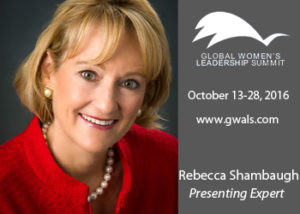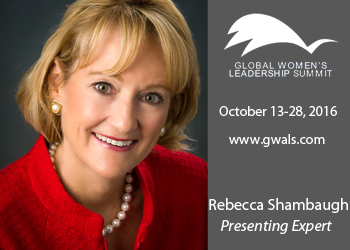 ---
2016 GWALS Summit Details
Cost: Completely FREE – anyone can register.
Where: This event is completely online. You can attend from any location without travel or expense. You can even attend from your mobile device!
When: October 27 at 4:00PM EST. For full details about the summit schedule, visit http://gwals.com/gwals.html?p=a560&w=aa2016