Rebecca Shambaugh is a highly-sought-after and recognized speaker, leadership expert, and author. She is the founder and President of SHAMBAUGH Leadership, a global leadership development organization.
She speaks before thousands of leaders around the world every year, challenging conventional wisdom and overturning assumptions about how to lead in today's business environment. Her compelling and new vision for leadership in the 21st Century has electrified and inspired audiences on six continents.
Rebecca partners with a cross-section of the Fortune 500, including clients such as:
| | |
| --- | --- |
| — AIG | — Intelsat |
| — Cisco | — KPMG |
| — Dow Chemical | — Johnson & Johnson |
| — GE | — Marriott International |
| — Hilton Worldwide | — MetLife |
| — IBM | — National Grid |
Her work focuses on the what and how of organizational and leadership transformation initiatives. Rebecca also provides coaching and consulting to senior executives on personal leadership, team and organizational development, and strategy execution to optimize overall effectiveness.
Prior to starting her own company, Rebecca has worked for such premier organizations as General Motors, Fairchild Industries, and Amax Inc. as a senior executive in the leadership and human capital arena.
Rebecca has presented to over 100,000 leaders within organizations, major conferences, and executive forums regarding the 21st Century Leadership Model and her company's research and best practices for driving innovation and high performing cultures through cross collaboration and inclusion. Rebecca has been showcased on CNBC, TED Talks, Fox News (New York), NPR, Washington Business, ABC, and numerous syndicated radio talk shows. She has been featured in publications such as: The New York Times, The Washington Post, Huffington Post, Time Magazine, Fortune Magazine, U.S. News & World Report, and Entrepreneur Magazine.
Rebecca has over 20 years of experience building practical leadership development programs that strengthen under-heard voices and help organizations navigate today's complex and interconnected world. She consults with organizations to shift outdated assumptions, and mindsets while incorporating winning strategies that transform cultures and create inclusive leadership. Rebecca founded Women In Leadership and Learning (WILL), one of the first executive leadership development programs in the country dedicated to the research, advancement, and retention of women leaders and executives. She has coached over 500 executives in how to tap on their collaborative intelligence, build and leverage powerful, cooperative partnerships, transform their teams, and navigate dynamic change.
Rebecca is the author of the bestselling books that illustrate her unconventional and results-focused approach to creating great leaders: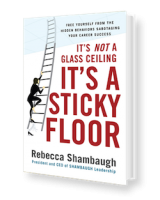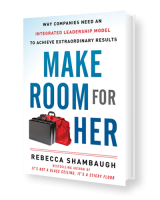 Her unique approach to leadership development has been showcased on National Public Radio and on a two-hour PBS telecast to over 20,000 executives around the United States. Rebecca has also been featured on Fox News (New York), Washington Business (ABC), and numerous syndicated radio talk shows.
Rebecca is a member of the National Press Club, the Economic Club of Washington, D.C., on the Board of Visitors for Marymount University, on the Board of the Fairfax County Chamber of Commerce, and on the Executive Board for the Virginia Women's Center. Rebecca is also the Chairman of the Board of Young Women Lead and an Executive Partner for Bentley University's Center for Women and Business, as well as on the Board of the Red Cross. Other accomplishments include recipient of the Smart CEO Brava! Award, Women Who Mean Business Award, Entrepreneur Organization of the Year Award, and Finalist for the Outstanding Corporate Citizenship Award for Woman-Owned Business of the Year.
Rebecca holds a Bachelor of Science Degree in Industrial Relations from Purdue University and a Master of Arts Degree in Organizational Development from Marymount University.