Achieving Organizational Inclusion:
A disruptive approach to gender-balanced leadership
The business case for gender-balanced leadership is well-documented—but many companies have plateaued in their efforts to achieve it. The traditional approaches are not working, which calls for organizations to take a disruptive approach—one that is creative and not aligned with the status quo. In this session, Rebecca will call out the urgency to reexamine standard leadership thinking to align with the latest Inclusive Leadership model, personally challenging attendees' current narrative regarding gender equality.
Key Takeaways: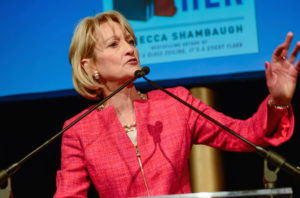 Understanding the business case for gender balance.
Learning how to have critical conversations with executive leadership to gain their commitment for sponsorship to inclusion.
Understanding how to gain shared accountability beyond HR.
Accessing your team/organization to determine their strengths/gaps for gender balance.
Learning and applying key competencies for Inclusive leadership.
Walking away with practical steps for systematically implementing a program for gender balance, based on a roadmap that attendees can tailor to their organizations.
Make Room for Us:
Why businesses need to adopt diversity leadership models to survive in the 21st century
Corporate boardrooms still don't look like the neighborhoods and workplaces where our customers hang out. However women are finally breaking through the glass ceiling, strategic organizations are embracing a new leadership model called Collaborative Leadership. It is built on the foundation of gender-balanced teams and leverages the unique strengths of both men and women. In Rebecca's compelling business case and masterful stories and real life examples, she shows audiences what modern, integrated leadership models looks like and how to develop them for your own organization by including a wider range of voices.
Key Takeaways:
The Bottom Line Benefits of Diversity
The Changing Nature of Your Customer
Great Leadership: The Intersection Between Science, Human Behavior and Purposeful Vision
What the 21st Century Executive Team Needs to Look Like
How to Power Innovation Through Inclusive Leadership
Organization Scorecard for Collaborative Leadership – Drivers for Building Inclusive Cultures and Leveraging Key Business Drivers
Get Off the Sticky Floor and Learn to Lead:
How women hold themselves back and what they can do about it
Too many women unknowingly hold themselves back because they can't see how to fit themselves into an outdated model of leadership. In this speech, Rebecca teaches women to step up as leaders without sacrificing their authenticity or losing their uniquely valuable perspectives.
Key Takeaways:
It's Not a Glass Ceiling, It's a Sticky Floor

The Six Ways Women Hold Themselves Back
Engaging Men as Sponsors
Finding Your Voice, Taking Risks and Mobilizing Others
Four Things Men Don't Tell Women
The Secret to Being Forceful, Not Bossy
How to Manage and Thrive With a Gender Imbalance
Having Human Intelligent Conversations