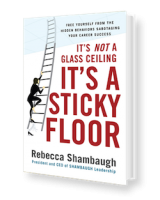 Emphasizing strategic relationships, communication and the elements of executive presence, she writes in an encouraging tone with a refreshing lack of blame, making this a satisfying read for women stuck in middle management limbo"
—Publishers Weekly
Rebecca Shambaugh's first book, It's Not a Glass Ceiling, It's a Sticky Floor: Free Yourself From the Hidden Behaviors Sabotaging Your Career Success, is a modern classic that offers women leaders practical strategies for increasing their impact, enhancing their overall confidence, and stepping into their own power. Shambaugh points out that women earn more than half of the world's multidisciplinary master's degrees, make more than 80% of purchasing decisions, and hold more than a third of the managerial roles in Fortune 500 companies—and yet are still vastly underrepresented as CEOs, on corporate boards, and among the top earners in those Fortune 500 companies.
Available for purchase at:
Turn the Top 7 Career Breakers for Women into Career Makers
Statistically, more than one-third of Fortune 500 managers are women — and yet we represent barely five percent of the top earners among executives. Usually, we blame it on men — those "old boy" networks that don't typically welcome women into "the club." But, according to leadership coach Rebecca Shambaugh, the real obstacle to women's advancement is not a "glass ceiling." It's the self-imposed career blocks that prevent us from moving up.
Rebecca argues that while outdated attitudes do create a 'glass ceiling' holding women back, they hold themselves back just as much, creating a 'sticky floor' that keeps them from reaching their full potential. Shambaugh shares practical tips on building your personal leveraging your personal brand, navigating political dynamics, showing up with executive presence, achieving a better work-life balance, defeating perfectionism, making your voice count, and other ways women can unlock their true leadership power.
Praise for It's Not a Glass Ceiling, It's a Sticky Floor
"Emphasizing strategic relationships, communication and the elements of executive presence, Rebecca Shambaugh writes in an encouraging tone with a refreshing lack of blame, making this satisfying read for women stuck in middle management limbo" — Publishers Weekly
"Rebecca Shambaugh's book, It's Not a Glass Ceiling, It's a Sticky Floor is a valuable new tool to help women unleash themselves from their own preconceived notions and move to new levels of leadership and significance"  — Frances Hesselbein, Chairman and Founding President, Leader to Leader