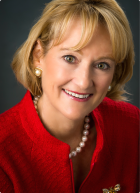 Reading stories of the #MeToo Movement, one thing stands out alongside the power and bravery of the women sharing their stories: gender polarity. Because of the devastating nature of sexual misconduct, women and men—both those experiencing/perpetrating harassment and those hearing about it via the publicized stories—are inherently on opposite sides of the fence.
This makes sense as an initial response to the unacceptable and unwelcome acts—and at the same time, the best way to make long-term change and break this cycle going forward is through gender unity. It is only through the Power of One's unified approach that men and women can support each other to rise off of our Sticky Floors to create a better and smarter world, even when (or perhaps especially when) it comes to harassment.
In my recent blog series, I focused on how the Power of One reflects a new culture that's emerging in today's organizations—a culture in which the traditional leadership paradigm is not only fraying at the seams, but is finally starting to crack. Organizations and executives throughout Corporate America are recognizing in growing numbers that the old-school style of leadership is not sustainable. Sounds familiar, doesn't it? We've reached that same type of watershed moment when it comes to sexual harassment—reports of wrong-doing that once were a trickle have become an unstoppable flowing movement.
The similarities don't stop there. Today's companies are beginning to harness the Power of One to help create greater feelings of connectedness between people and teams. But creating a new ROI for inclusion and belonging among cognitively diverse employees of both genders is not the only application of the Power of One. This framework's principles are also relevant to help guide us through and beyond this current moment in history, where harassment and misconduct are being outed—and their perpetrators ousted—at unprecedented rates throughout all quarters of society, from Hollywood to automotive companies and far beyond.
The same kinds of strategies that are helping to shift organizational mindset via the Power of One can also work to create greater cohesion between the genders—and heal the understandable mistrust between women and men—that these sexual offenses have caused. No matter what industry you're in, you can make a difference if you:
Commit to being a bold and disruptive leader rather than stomaching the status quo
Hold others accountable for their actions with clear consequences for misbehavior that management supports and mandates
Examine your own mental buckets to embrace the power of collective intelligence rather than cling to a self-oriented mindset
If we all embrace the Power of One, we'll eventually be able to move beyond a world where we must wonder if we can compliment those we work with or give someone a collegial hug. Whether male or female, manager or employee, in Hollywood or on Wall Street or Main Street, our goal should be to become a unifier. It's only by tackling these challenges together as one that we'll be able to move toward healing the current gender divides, bringing greater levels of safety, trust, and inclusivity to all of those around us.
Rebecca Shambaugh is the founder of Women in Leadership and Learning, a regular contributor to Harvard Business Review and blogger for the Huffington Post. She is author of the best-selling books It's Not a Glass Ceiling, It's a Sticky Floor and Make Room for Her: Why Companies Need an Integrated Leadership Model to Achieve Extraordinary Results. 
---
Learn More About Rebecca Shambaugh's New Keynote
"The Power of One"
---
To learn more about SHAMBAUGH's Executive Coaching and our Inclusive Leadership —Women's Leadership offerings, visit <www.shambaughleadership.com.
SaveSaveSaveSave
SaveSave
SaveSave